Hello All!
Obviously my work as a SportWORKS Officer has looked a little different this month, as I'm sure it has for most people. Despite not interacting with the youth in person each week, we have continued working hard to plan future sport opportunities that Action for Healthy Communities will be able to deliver to newcomer youth in the Edmonton area.
A highlight of the month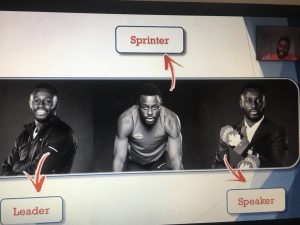 was hearing from a Commonwealth Athlete and National Champion, Sam Effah. Sam hosted a Live Chat with participation from newcomer youth across the country. He told his story about growing up as a second generation Canadian and  shared some of the lessons he's learned through sport. I think it's safe to say that all those who viewed the Live Chat were inspired and motivated to chase after their goals! Thanks Sam!
Another highlight was finding out that Action for Healthy Communities (A4HC) was approved for a Jumpstart Community Development Grant! Community Development Grants help qualified donee organizations develop or sustain sports and recreational programming for kids and youth who are in need. With these funds, A4HC plans to hold a newcomer youth soccer tournament in Edmonton, at some point in the summer/fall. The funding from Jumpstart will allow A4HC to purchase new soccer equipment and have official referees at the soccer games, both of which were not possible at past soccer tournaments due to limited resources. We hope that helping A4HC to apply for this grant will allow them to have a sustainable source of funding in the future, so that they can continue to offer quality sport opportunities to youth.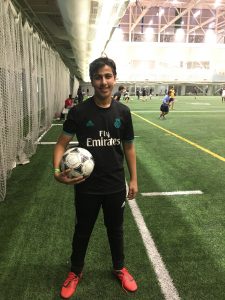 One of the beautiful things about sport, is that it is so much more than just sport. This is especially evident in community sport. Community sport provides a space for kids, youth, parents, families and neighbours to come together. It's a place for people to connect, share and be social. Through sport, youth learn skills such as cooperation, leadership, commitment, and hard work. It's also a space for underserved groups to come together and find a sense of belonging. Community sport adds structure and routine to the daily lives of children and youth. Due to the pandemic, all of our opportunities for community sport gatherings have been put on hold. Which means that those moments of development have also been put on hold for now.
Although we are limited in how we can gather together physically, it's been amazing to see how communities have done their best to come together, and strengthen one another from a distance. The same is true in the sport world. The speed at which organizations have worked together to come up with virtual sport learning opportunities is incredible. Although having a sport experience online doesn't quite bring all of the joys or benefits of regular sport participation, I think it's keeping youth excited and ready for the real thing once we're back at it! The development that can happen through community sport is invaluable and we can't wait til we can again access these opportunities.
As we near the end of this pilot project during the pandemic, it is even more clear that there is great value and purpose behind the work we are doing through the Sport for Newcomers Initiative. Community sport is extremely valuable and the more youth we can help to access it, the better.
Kirstina Turner