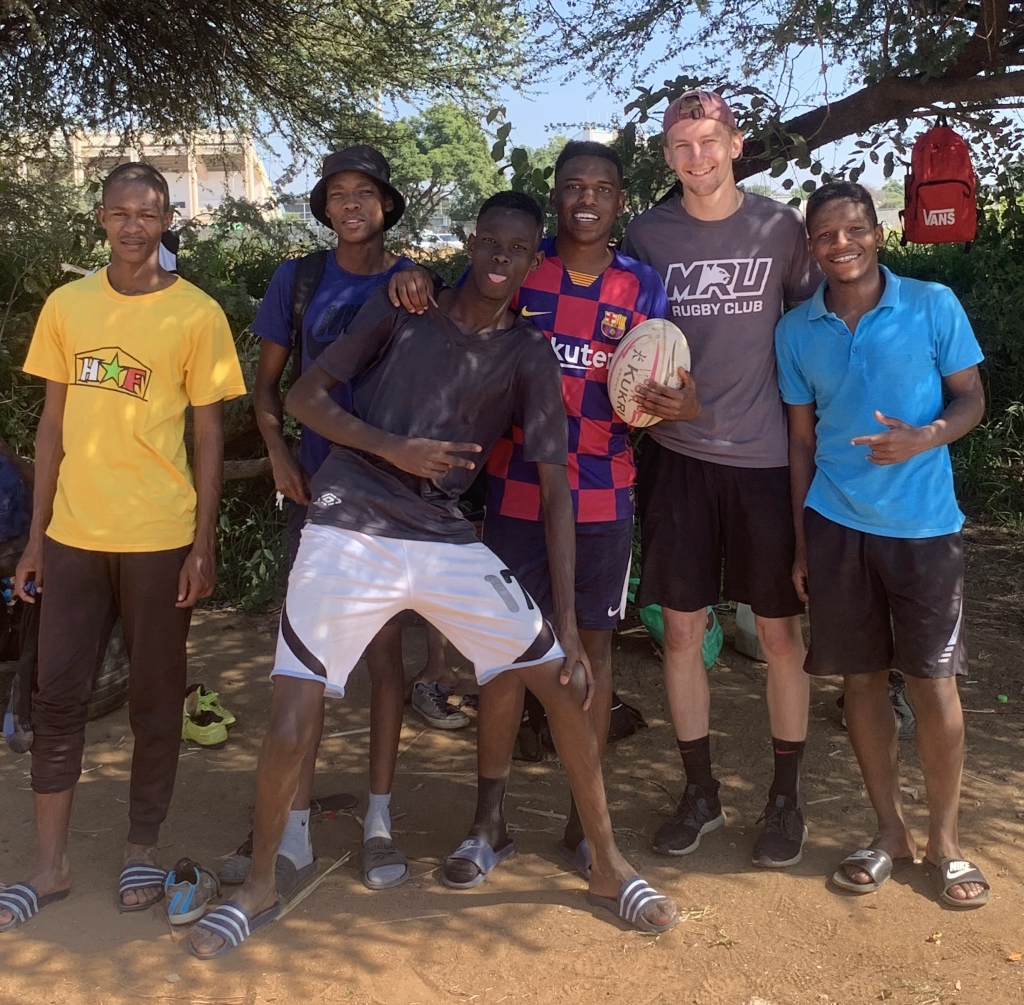 Dumelang metswalle!
My name is Eric Gratton and I am the first Canadian SportWORKS Officer back in Botswana since the beginning of the COVID-19 pandemic.
I've been in Gaborone (Gabs) for a little over three weeks and I am adjusting well to the ways of life here. The first few days proved difficult as I experienced some jet lag and culture shock, but the first weekend here gave me one of the coolest experiences I've had thus far. Out for a morning run, I passed by some soccer fields and was asked to sub for a local team that was short on players. Accepting the offer, I gave my 20 pula into the pot for what I thought was an entry or registration fee, but as it turns out it was money we were betting on the game. I was very out of practice and exhausted after just the first half of playing in the heat, but luckily another member of the team came to sub me out. The game ended in a tie, and my team lost in penalty kicks but I still had fun nonetheless! This also opened my perspective up drastically as a player on the opposite team shook my hand after the game thanking me, because "it was the first time he'd ever played against a white guy."
The next few weeks I explored Gabs, figuring out where the best grocery stores were, visiting a marketplace downtown, and trying out some of the local restaurants. I've had conversations with lots of locals who are very friendly and interested in seeing a Canadian here. Settling in was made a lot easier by learning some Setswana, finding a routine for myself, and also getting in contact with the local rugby club: the Gaborone Hogs RFC. The people involved with the club are very welcoming and I see myself spending lots of time with them for the duration of my trip.

At the Botswana National Olympic Committee (BNOC), I have been assigned to develop the Long-Term Athlete Development plan for Netball, a sport I have never played but am excited to learn more about while I'm here. The first few weeks consisted of learning the Botswana LTAD program, researching other Netball LTAD programs from Africa and around the world, and getting the ball rolling with the Botswana Netball Association (BONA). We are currently doing a scan of what Netball in Botswana looks like right now, which has been interesting given that sport programs here are just beginning to start up again since the onset of the pandemic. The national teams are currently undergoing selections, where the women will be competing in qualifying matches for the 2023 Netball World Cup taking place in late August.

I am looking forward to making a difference and becoming different before my time here is up!
-Eric