After a long wait, the Sport for Newcomers Initiative (S4N) is set to begin. Myself, along with the local youth are very excited about this opportunity and cannot wait to begin. We have started to develop plans with our host partner YMCA Hamilton Burlington Brantford.
Hello, my name is Ronald Ho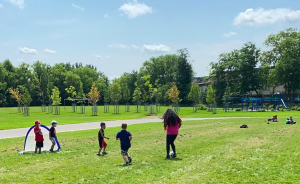 llingsworth and I am the new SportWORKS officer for S4N Hamilton. I have previous experience working as a program coordinator and youth coach in a variety of sports, including soccer, basketball, football, and hockey to name a few. I am looking forward to using these experiences to develop a strong program. In the fall of 2018, I also studied abroad in Jyväskylä, Finland. While there I worked with the local junior hockey team as an event coordinator and assistant coach. It was an amazing experience. This allowed me travel around Europe as well.
Continuing this great tradition, the S4N initial pilots will begin to help newcomer
youth in Hamilton 2021/2022. Specifically, focusing on the main goal of eliminating barriers for newcomer youth, especially girls, who are looking to participate in sports. This will be done through programming and partnerships with other local sports organizations. Our goal is to increase sport participation and retention of all newcomer youth. I am very excited to get started. We are looking to make Edmonton, Toronto, Calgary, and everyone at the CSC proud!
I would like to thank Ryan and Commonwealth Sport Canada for giving me this opportunity to develop a wonderful program within the community.
By: Ronald Hollingsworth