Written by: Sarah Smith, SportWORKS Officer, S4N Edmonton
Accessibility in sport can seem like an insurmountable task when viewed alone. Barriers can pile up quickly; having reliable transportation to get back and forth from practices and games, enough funding to pay your way through the ever increasing costs, battling through systems that are not always created to best fit the participant. Now, if you add being new to the country, not know the language, not always fitting the mold of what is expected, racial differences, and potentially starting your chosen sport later than others due to extenuating circumstances, you can see how these barriers pile up to a point where you do not have the adequate means to try. This is the value of the Commonwealth Sport Canada's Sport for Newcomers Initiative (S4N), partnering with organizations such as ours, Action for Healthy Communities (AHC), to help deliver as "barrier free" programming as is possible to our target audience: newcomers to Canada. But are we doing our job if after we have completed our project, we are no longer developing these same opportunities?
This question of sustainability has been central to our thinking during this second round with CSC. After completing the first year of the S4N Initiative, AHC was able to leverage some of our experience into research around barriers for newcomers. Part of this research included developing connections with sport organizations across the city of Edmonton in order to better understand everyone's experiences and knowledge on providing accessible programming. Through these connections and partnerships, we have been able to have valuable conversations on the differences between where some sports are at and where newcomers meet them. Take for example the national pastime of many Canadians: Hockey.
Most Canadians know first hand the many barriers that exist for everyone when trying to play the popular Canadian sport. For some, those barriers have prevented the opportunity to play. However, Edmontonians still grew up in the cosmos that is Oilers fandom here in Edmonton. Like many Canadian cities, the NHL fandom is all encompassing. It is what makes the city breathe, yell, proclaim, despair, cheer, and sulk. There have been many bright days that have felt dull due to a disappointing season (decade of darkness anyone?), and, conversely, some dull days that have felt bright as ever due to playoff magic (thank you McJesus!). Now, not everyone in the city is as enamoured with Goilers fever as others. Even if they are not, it is hard to miss seemingly every car sporting an Oilers flag, every restaurant loudly blaring the current game, and the constant chatter and hum on the street after an exciting win. Let alone if you live downtown and hear the roar of the Moss Pit and honking of cars as the crowds exit the latest watch party. It is safe to say that Canadian NHL markets in general have not had to market their teams to a new, unknowing, audience in a very long time. All this to say, when introducing newcomers to the quintessential Canadian pastime, where do you start? How do you continue?
We started at the basics. Before the skating lessons and the hockey equipment. Without the hardwired orange and blue flowing through the veins. Stick in hand, movable goal on ground, and ball in the street. Ball Hockey. Now, ball hockey negates a lot of the barriers that exist within the sport such as technical skating skills, professionalization of the sport and leagues making it hard to join, cost & time commitments, etc. However, even at its basic structure, the piece of community connection is still missing. The heart of the program is gone. While we can teach the enjoyment of the game, it still does not explain the rest. Cue, the Oilers themselves.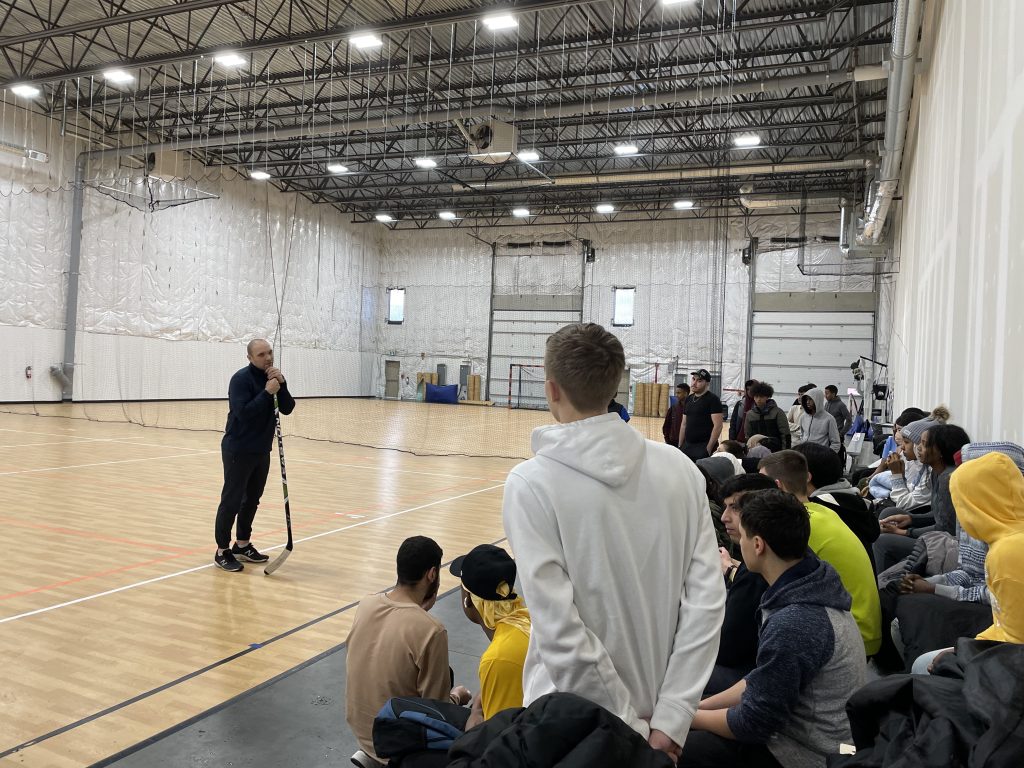 One of the developed partnerships over the past year and continuing to today is with the Oilers Alumni group. They have volunteered their time and energy to come out and help some of our newcomers learn the sport of hockey, talk about and answer questions on all things Oilers, and play ball hockey with our youth. By doing so, they have opened the door to Rogers place. This still leaves us in a predicament, however. While we at AHC have resources to connect newcomers to opportunities, and provide social learning and community connection, we do not have the resources or the capacity to hire a bunch of coaches for different sports continuing past our dedicated Try-It days. Instead, we have reached out to sport organizations that have already done the work to create a system that lowers barriers and brought them into the connection point. For us this has been Free Play – an organization in Edmonton that works to provide opportunities for low-income youth across the city to participate in sport, develop their social learning, and have a safe space to try new things. Our youth fit within the requirements of their organization for participants which makes them a perfect fit. When our youth join the program they are trying a new skill and learning the cultural relevance of the sport they are playing, while learning from coaches and programs that can continue that opportunity if the participant so chooses.
For us, the connection between AHC, professional sport organizations, and community recreational sport, is the ultimate display of the power of our organization. It takes the desire of our clients to better understand their new community and provides them both the opportunity to learn and the chance to continue that learning. Along the way, we also create a new avenue for life long activity and sport experiences. At least, that is the goal – one that we can hopefully reach this summer and during the upcoming busy month of July!
'Til next month, when we wrap up our S4N Edmonton Initiative in style!
-Sarah