Written by: Sarah Smith, SportWORKS Officer, S4N Edmonton
Welcome back everyone!
This past month we had 4 events planned: 2 Ultimate Frisbee experiences hosted by Edmonton Ultimate Players Association (EUPA); Track & Field day with the Edmonton Track and Field Council to prepare some Jr. high newcomers for their track and field competition later in the month; and a Hip Hop showcase at the Edmonton Ballet studio to finish and celebrate our dancers who have participated with us this past year.
Starting off the month we had our Ultimate Frisbee events where EUPA visited two different high schools to teach our students all about the sport of Ultimate! For many of our students the sport was a completely new experience with only physical literacy skills to guide them in throwing. Our AHC Sport facilitator Tobore Okome helped support their learning and alongside EUPA the students learned about the skills of throwing frisbees, and eventually, practicing defence.
As Tobore related afterwards,
"The newcomer students were very excited during every part of the session. Although they did not possess expertise in frisbee, they were eager to try new challenges together. This excitement was especially present during the game portion of the event. Our newcomers began to become more comfortable in the sport, therefore showcasing their competitive spirits amongst their peers. Afterwards, our newcomers asked our guest instructor about more opportunities for frisbee."

Newcomer students participating in Ultimate Frisbee. You can see the smoke setting in from the fires.
Our larger intention with Ultimate is to provide our newcomers with information on summer Ultimate programs, and to inform them of the popular recreation sport in the city. Having students request that information tells us that we are on the right track.
We ended our month with the Hip Hop Celebration hosted by Edmonton Ballet this past Sunday. Hip Hop 4 Newcomers is not only a popular after school program of ours, but has also been a personal favourite. Many of our students were searching for an opportunity to dance in a formalized setting and when our class came along they jumped at the chance to be included. Over the past year I have been told by these dancers that they cannot wait each week for Wednesday as that is when dance is! Getting to know all of them, and our wonderful dance instructor, was always a bright spot in my week.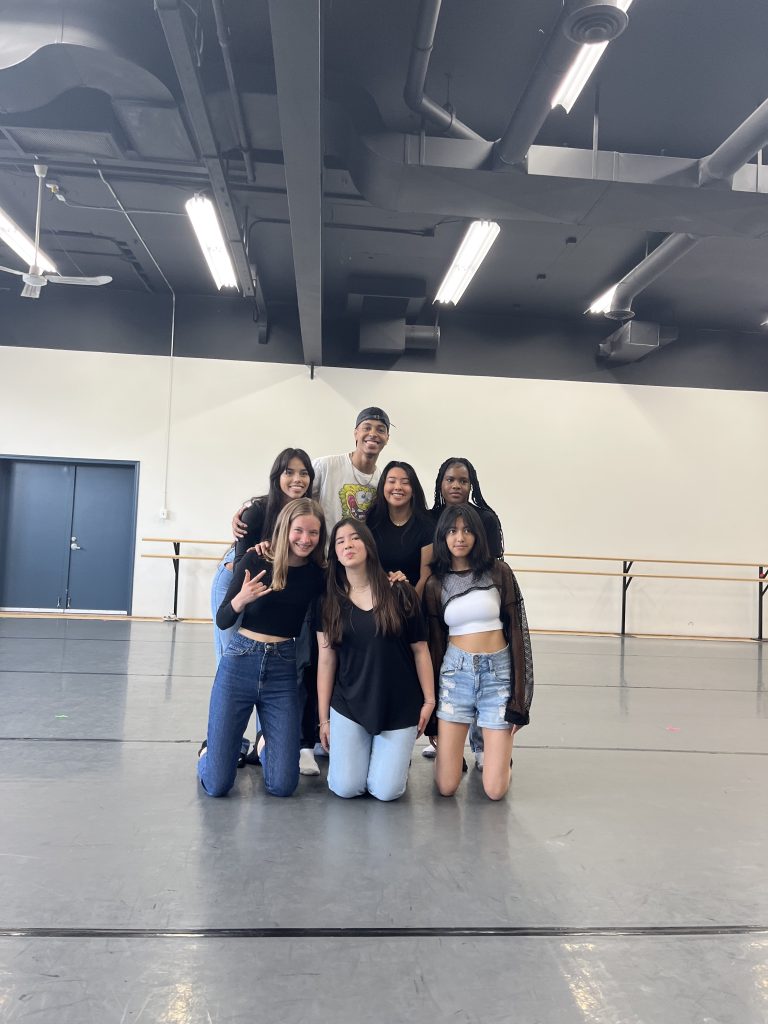 For our final showcase, the students got to show off their skills by performing for friends and family and demonstrating how they learn their dances. Dance instructor Samuel took the students through the beginning of a new dance, explaining to all of the guests how they break down their skills to eventually put it all together at the end. Finally, they performed for everyone and did an amazing job!
While we had many successful sporting events this month, that does not mean it was not without its struggles. Due to the wildfires that have affected Alberta there have been multiple complications with programming. Families that live on the outskirts of the city have been displaced and unable to attend programming. In addition, the smoke from the fires was pushed into Edmonton causing severe pollution for many days. As a result, we had to cancel our Track and Field day with the Jr. High newcomers class. Normally we would try and reschedule the day for a future event, but due to a busy June with exams, track meets, and end of year celebrations, we were unable to plan a new event. However, our partners ETFC were able to offer a track coach to go to the schools track and field meet together and support the students that way.
Overall, between all of our events, we were able to support programming for 40 students in sport activities. In addition, through our Hip Hop Showcase, we also had family members and friends join the festivities and learn about what we are doing. As always, we are excited about what will come next and some of the fun events that are in the works. Keep checking back in to see our progress and the activities that we host!
Sarah Smith