By: Matt Milligan
Hello everyone!
Our time in eSwatini has ended just as fast as it all began. Our last few weeks were filled with more adventures, emotional goodbyes and new beginnings.
Our highlight during our last weeks was our 5 day safari in Kruger National Park. I got to check off two items from my bucket list: experiencing a real African safari, and see the stars without any light pollution. We got to see the Big 5 (Elephant, Buffalo, Rhino, Lion, Leopard) all of which were within 15 feet from our open vehicle at one point during the safari! What a great experience!
Lastly, Jon and I organized a farewell party that included different people we met and engaged with during our time in eSwatini. We had all the staff members from SOCGA, the volunteers from OAC, many members of the Swaziboyz Motorcycle Club, and some American and Canadian friends we met along the way.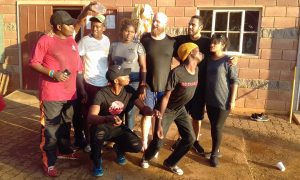 This was a great way to bring closure to our experience as we included different sports and activities that promoted teamwork and communication. Many of the people at the party were strangers at the beginning of the event, but we all became friends at the end.
It is difficult to find the words to express how I feel about my time in eSwatini. As a whole, it has been the greatest experience of my life, I traveled to places I didn't know existed, and I met people I will never forget. I cannot say enough about the generosity and kindness of the people of eSwatini.
To the SOCGA staff, thank you for bringing me in and helping me feel at home in a foreign environment. To OAC, thank you for the adventures, the laughter, the friendship and the memories. To the Swaziboyz, thank you for considering us as your equals and taking us along for your adventures. To Dalton, thank you for being a brother, taking us under your wing and showing us how to live like the Swazis!! To Jon, thanks for the friendship, the laughter and making this whole experience worthwhile!
As for what is next in my life, in a few weeks I will begin a Master's of Arts of Applied Health Science in Sport Management. I am confident my African experience will contribute greatly to my future success as a graduate student.
Thank you everyone for following along with my adventure, for a last time,
Thank you and goodbye!
Matt
———–
By: Jonatan Osorio De Leon
Sanibonani friends,
Unfortunately, this will the last blog post I have as a SportsWorks Officer/ QE Scholar with the Swaziland Olympic and Commonwealth Games Association. Throughout all the experiences, friends, events, and memories I have made I can honestly say that Swaziland will always have a special place in my heart. I have been blessed throughout this journey to have met such a joyful group of individuals who have been more than willing to accept me as one of their own, a true Swazi!
Towards the final 2 weeks of this internship Matt and I were lucky enough to visit Kruger National Park for 5 days. Sleeping under the stars and hearing lions roaring to claim their territories under the stars was such a gratifying experience! We were lucky enough to see all the big 5 (Lions, Leopard, Rhinos, Elephants, & Buffalo) less than 4 meters away from our safari vehicle! It has always been a dream of mine to see Lions in the wild and boy oh boy I can proudly say I can cross that off my bucket list! However, seeing lions sleeping on the road or marking their territory as the sun was setting was amazing to witness I can honestly state that it was not the highlight of my Kruger trip. The highlight of this trip would've been when a large male Baboon jumped into our safari vehicle and literally should to shoulder with me for about a minute where our guide had to scare the baboon away. It was a scary experience but one I won't ever forget.
In the final week of my internship Matt and I were busy planning our mini Olympic Games we had planned for our farewell party. All the friends we had made in Swaziland were able to make the trip where we engaged in games like blind folded egg races, wheelchair races, ring toss games and water balloon dodgeball. The whole purpose of these games was to put the values we had been attempting to teach to children throughout this internship to use and have fun with the adults work tirelessly to execute sport for development events for surrounding communities. This event was amazing as we got to celebrate each other with a braai, cake, cold drinks, and dancing where we danced the day away and said our final farewells.
Before I sign off with this final blog I would love to thank all the SOCGA Staff, OAC Staff and Volunteers, Swaziboyz M.C.C, other international students I have met throughout this journey, and all the friends I have made here in Africa. And how could I forget my friend Matt! Before this journey, Matt and I were complete strangers where we embraced the unknown and took on Africa side by side and I can honestly that I am happy you were chosen to come on this trip alongside me!
The professional and personal develop I have seen in myself is all thank to you where I can proudly say I am coming back home confident and ready to take on the next challenge that comes my way! I cannot explain how grateful I am to have met you all, you've all made this trip remarkable but let's not forget what I told you all, this is not a goodbye but a see you later!
Well that's all I got left to say! This journey has come to an end but I know it will continue to open more doors for me in the future with the lessons it has taught me!
See you soon Kingdom of Swaziland, you and your people are one of hidden gems of this beautiful world that I am proud to say I have experienced. I will back sooner than later to visit and to my family and friend back home I hope to see you all in a couple days.
Signing off for now,
Jon