By: Matthew Leidl
Dumela friends,
The month of May is coming to an end and it has now been around three weeks since I touched down on African soil in Gaborone, Botswana. So far it has been a great experience meeting new people and settling into a new culture. Everyone has welcomed me with open arms, and has helped me to adapt to their culture quite easily.
After three different planes, two days, a canceled flight, and 35 hours of travel, I was greeted at the airport by my supervisor, Modise. Once I collected all of my luggage we then headed directly to Simba's house where I will be staying for the duration of my internship. When I arrived, Simba was out of the country so I was greeted by Simba's nephew, Blessing. After dropping all my stuff off and having a quick dinner we headed out for a short tour of the area, before heading back to catch up on some much needed rest.
Touchdown at Sir Seretse Khama International Airport

On the first Monday upon landing, I headed to the Botswana National Olympic Committee (BNOC) office to begin orientation and learn about my role within the organization. During my time in Gabs I will be working with BNOC and the Botswana Table Tennis Association (BTTA) to implement a Long-Term Athlete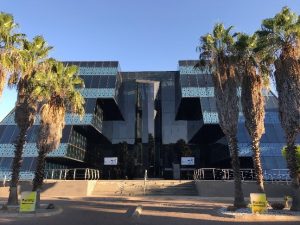 Development Model. Specifically, I will be in charge of developing a framework for the BTTA to use in order to ensure long term sustainability and success within the sport. The framework will focus on all ages, starting at the grassroots level all the way up to the elite/podium level and beyond. After completing this framework, I will also be in charge of developing an implementation plan and budget, so when the next QE Scholar comes over they will help with the actual implementation and running of programs.
Over the last couple weeks, I started conducting lots of research to get a better understanding of the sport and how it is integrated within National Sport Organizations around the world. I have looked into other countries development pathways and integration methods which will help me as I progress through the coming months. I have also done research on the BTTA; who they are and what they do, then moved towards identifying their key stakeholders, as well as data collection methods that will be most effective in the near future. Once I finished the majority of my research, I was able to create a readiness assessment report for the BTTA.
After creating a readiness assessment report within my first week, I spent last week building surveys and interview questions that I will be using next month. These surveys and interviews will be used to gather raw data and information from BTTA stakeholders and local clubs around the city. I am looking forward to the work I will be doing next month and collaborating with organizations outside of BNOC to help build the BLTAD framework.
Now… Moving away from work…
On the weekends, I have been usin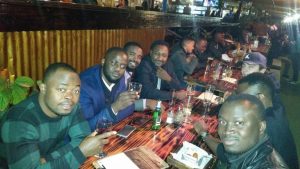 g my time to meet the locals, hangout with friends, and explore the city. There are many different places that I have already had the chance to visit, but I would have to say Main Deck is my favourite spot to hang out with friends. Main Deck is a very popular outdoor bar and restaurant where there is great food, live music, and a drink menu longer than the alphabet!
Also, on my second weekend here in Gabs I had the privilege of attending my new friend Kofi's wedding. It was my first experience with an African style wedding, and it has definitely been a highlight of my time here. At the wedding I was able to meet lots of people I can now call friends, experience some more amazing local food, and just relax and enjoy the African culture.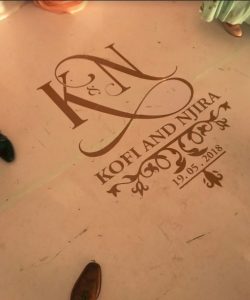 As the month June approaches I am hoping to visit the famous Kgale Hill, Mokolodi Nature Reserve, and begin to plan some trips up north to experience true African wildlife and landscapes.
So far Gabs has been an amazing experience and I look forward to the next couple months.
Until next time,
Matthew Leidl