By: Matthew Leidl
Dumela Friends, for the last time,
My final week in Gabs has officially arrived and it's almost that time where I begin the long journey back to Canada. I still cannot wrap my head around the fact that I just spent the last three and a half months completing my internship in Botswana, Africa!! If you were to tell me back in first year university that I was going to complete an internship outside of Canada in another Commonwealth country, I would not have believed you for a split second. This entire experience has allowed me to see how the sports industry works on a global level and the lasting impact sport can have on a country and community. All in all, this has been an incredible experience and I cannot say enough good things about my time here!
The last three weeks at the Botswana National Olympic Committee (BNOC) office have been very busy as I put the finishing touches on all my work before I leave. Since I finished the BLTAD Framework for the Botswana Table Tennis Association (BTTA) last month, I have been working some long hours building an accompanying Implementation Action Plan for the BTTA to use as a guide for the sport. The Implementation Plan is a document which outlines step-by-step procedures required to successfully teach and integrate the sport of table tennis in Botswana to a variety of age groups; ensuring success and long-term sustainability for many years to come. While completing the Implementation Plan I was able to work alongside members of the BTTA to ensure everything incorporated into the plan was feasible and appropriate for the country of Botswana. Whether it was emails, phone calls, or last-minute meetings, I was able to get the BTTA's input and opinion on my work, similar to what I had done last month with the framework.
Next on the "to do" list for the short month of August was the Implementation Budget. The Implementation Budget was created by the BTTA where they costed the Implementation Action Plan. The costing of the plan outlines any potential expenses that would be associated with the operation of future programs and coaching modules. Using the Implementation Plan, the BTTA was able to create a budget that incorporates everything from facility rentals, to coaches, to equipment and everything in between.
Not only will these documents help the next two QE Scholars with the actual implementation phase of BLTAD, but they will also provide the BTTA with a sense of direction as they work towards developing their table tennis program in Botswana.
Lastly, the final part of my internship involved me binding the BLTAD Framework and Implementation Action Plan, presenting the Action Plan to the BTTA, then getting the two documents signed by the President of the BNOC and the President of the BTTA. If you were to ask me, this was definitely the most satisfying part of my time here as I knew my work was in good hands moving forward to the implementation phase of Long-Term Athlete Development.
My last week here in Gabs will be spent around the area and hanging out with my close friends that I have made during my stay. I finish work up this Wednesday and will be playing in a golf tournament on Thursday, followed by sailing on Friday, and then relaxing on the weekend before I leave for Canada on Monday.
My time here is one that I will never forget. First and foremost, I would like to give a big thank you to Brock University for giving me the opportunity of a lifetime. Also, I would like to thank Commonwealth Games Canada and the Botswana National Olympic Committee for allowing me to work within their organizations as a Canadian SportWORKS Officer and intern. Lastly, I would like to thank everyone in between who I have been able to meet and connect with over the last four months. I have made many friendship here in Botswana, as well as friendships that expand far beyond Africa and North America. I am thankful for the friends I have made and will definitely miss everyone who I have met. With that being said, I am happy to be returning to Canada to share my experiences with family and friends.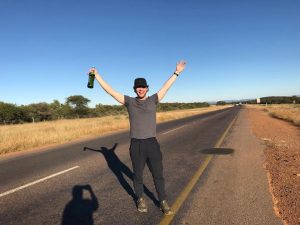 See you soon Canada!
Signing off,
Matthew Leidl