Hello All,
I cannot believe how the time has flown, 13 weeks has passed in the blink of an eye. It seems only a few weeks ago we got down here and started to coach the athletes. Each session I've had, weekend or in school, has shown tremendous growth in rugby skills and social development over the course of my time in Turks and Caicos. Many of our weekly sessions have now come to a stop with students studying for exams and rehearsals for Christmas concerts and plays starting up.
We are currently getting prepared for the annual Turks and Caicos Islands Rugby Football Union Christmas Fundraiser on Friday November 29th 2019. We have youth tag games, adult t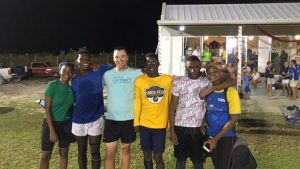 ackle game and fun activities for children planned and will have our final session with many of the youth before the school tournament on December 6th and 7th 2019.
This has been a fantastic opportunity, to be able to come here and both use skills learned in the classroom as well as to learn all kinds of new skills and experiences from a different culture. I treasure the experiences and memories I've made and will look to return here someday to make more memories and experience more of this beautiful culture.
I'd like to thank everyone for reading along about my experience and thank you to everyone here in the TCI who has made this experience so special.
Thank you TCI!
Grant Baillie