Dumela!
About 1 month has passed since I have arrived in the beautiful country of Botswana. It has been an incredible journey and an unforgettable experience so far! Due to a postponed flight, I had a 10 hour layover in Paris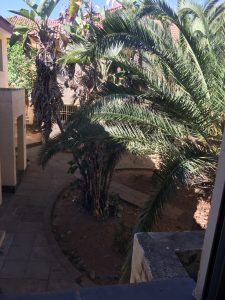 ! The airline had given us all a hotel to stay in overnight and I took the opportunity to take a bus tour through Paris. After a long, yet adventurous trip, I finally landed in Gaborone. I arrived at Simba's place, where I would call home for the next 4 months. After settling in and unpacking everything, I was greeted by Simba's sister, Vimbai, and she gave me a quick tour of the city.
I was now ready to begin my work at the Botswana National Olympic Committee (BNOC). I was welcomed by everyone at the office and felt right at home after being introduced to everyone. From here, I was introduced to the specific role that Ashley and I will be filling throughout the duration of my internship. I will be working closely with the Botswana Table Tennis Association (BTTA), implementing the first stage of the Botswana Long Term Athlete Development Model. This model was outlined by the previous SportWORKS Officer/QE Scholar and will help us implement the FUNdamental stage of table tennis to youths and local primary school physical education programs. So far, we have developed a work plan for our time being here and an outline of a program plan that we feel could help with the process of the FUNdamental stage. Now that this is done, we plan to schedule a meeting with the BTTA to review our work and to begin the physical implementation of these programs.
The BNOC was in the middle of preparing an event, the Olympic Day Celebration, when we arrived. I got to sit in on their event management meetings and watch them go through the process of planning their event and the steps they take to make these events possible. Ashley and I had the opportunity to partake in this event which targets local schools to participate in physical activities at their National Stadium, such as soccer, 100m dash, relay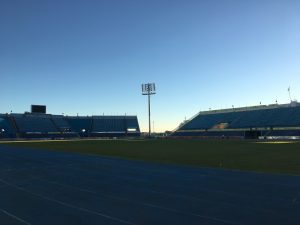 and doughnut races. The purpose of this event was to promote healthy and active living for the local youth children in Botswana. This started off with a 10 Km walk / run followed by Zumba and stretches before taking part in the activities listed above.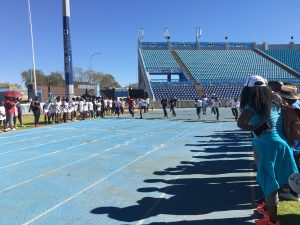 Overall, the event was a great success and all who participated seemed to enjoy themselves. Another event we attended was the Youth Olympic Game athlete send off. We were able to watch athletes representing Botswana hold up their flag as they prepare to compete in Argentina.
Aside from work, I have been getting used to the city and what is around. I have had the opportunity to go on a few drives through the city to get a sense of what is nearby and things to do. I have had the opportunity to spend time with our roommate, Blessing. He has taken us to some local hangout spots for us to meet some of his close friends. At a graduation party we attended, I had the opportunity to try some of the local food dishes that we do not have at home. To my surprise, I fell in love with the food and can't wait to find more for me to try.
In the upcoming month, we have been invited to a wedding that I am very excited to attend. We have been told that at least 600 people have been invited and that this style of wedding is a very big event that people from all over gather to attend. I also look forward to doing a game drive to get a view of the magnificent animal life that Botswana has.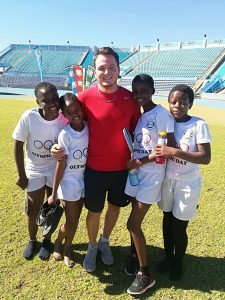 I look forward to these next 3 months here and all that Botswana has to offer. So far it has been an extraordinary opportunity, one that will last a lifetime.
Cheers,
Luke Burnside