This past month has been a busy one and I can't believe that my time here in Turks and Caicos is more than halfway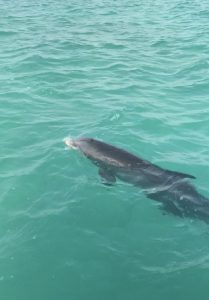 done. Since I have become more comfortable with the layout of the land, I have made it my mission to venture out more and try new things. I have been lost on more times then I can count, but I have been able to see more of what the beautiful island has to offer. I have had the chance to go snorkelling on one of the most beautiful reefs that I have seen i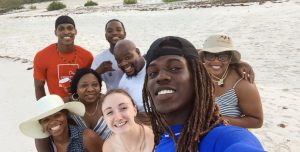 n a while and have also enjoyed a few boat parties. During that time, I was able to see the local dolphin they call Jo Jo, which some of the locals haven't even seen before. Pretty cool eh! Every time I look out to the ocean, I still can't get over how blue the water is here! When I am not doing rugby or spending my time on the water or beach, I volunteer my time at the fish fry on Thursday nights and on Saturdays at Potcake Place K9 Rescue. I am trying to make the most out of what little time I have left.
As for rugby, school sessions were a success! I am sad that they have come to an end, they were my favourite part of the day. The kids were very enthusiastic about rugby and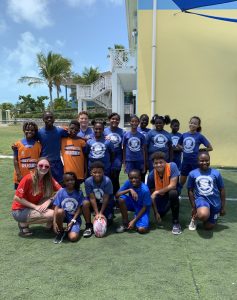 as a result, from May to June we have had 17 more kids join on Monday night youth rugby.  I have also started to plan summer day camps around the island that include rugby, but also fun water activities such as a water slide and water balloon fight. We hope to make this the most successful day camp season yet!
For the month of July, I hope to increase the numbers of involvement even more. For a small island, Providenciales continues to amaze me with how tight-knit the rugby community is and how they welcome all to join in on the fun. Being able to see everyone smile ear to ear when playing rugby is what this experience is all about.
Bye for now,
Margo