They say time flies when you're having fun… I cannot believe that it has already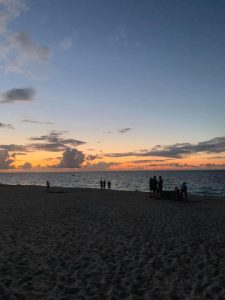 been a month since I have arrived in Turks and Caicos. I am so grateful for this opportunity, not only to see such a beautiful part of the world but also to be working so closely with the locals. My first day, I had a very warm welcome from one of the TCI Rugby boys named Hendriks, followed by a tour of the island. Experiencing driving on the left-hand side of the road was hard to get my head around at first but I eventually adapted to the foreign concept. It wasn't before long until my work as Sport Development Officer for the Turks and Caicos Rugby Football Union (TCIRFU) would begin.
My role as a Sport Development Officer is to develop rugby programs, I travel to schools to teach rugby to the children and teachers and provide a space where kids can go during the week to play rugby. The first week in TCI was overwhelming in the sense that there was so much to do to get started, and so much information to take in. Pretty quickly, I realized that the school systems here are much different than in Canada and the importance of sport/physical education i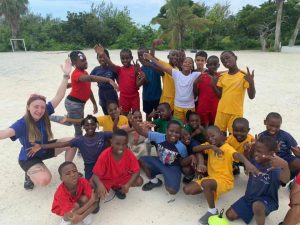 s not as high on the priority list as academics are. One of my goals this month was to get the teachers as involved as possible so that when there are no interns on the island the sport of rugby can still grow. Recently there have been 13 teachers that have completed the Level 1 Get Into Rugby Coaching Course, this means that rugby equipment will be in more schools than there was beforehand. A great step forward into sharing the knowledge of the game. My other goal was to increase numbers of those who knew/attended Monday night youth rugby. Being able to get kids playing rugby at a young age is what will help us continue to develop the sport for years to come. I have had the chance to referee small games, to even play in tag rugby with the older kids. I forgot how much I l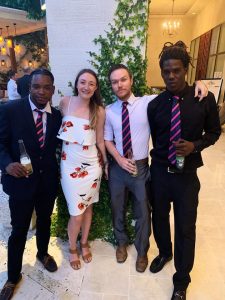 oved to play rugby.
To end the month on a high the TCIRFU hosted a legends golf tournament and dinner featuring Rory Best (Ireland's rugby captain) and Eric Rush (former New Zealand 7's rugby player). We had one of the biggest turnouts in the history of this event. What a once in a lifetime experience! I have also had a handful of kids approach me and say that they want to join Monday night youth rugby. It's the little things that make this month a success in my books. I look forward to what the next month has in store for rugby development here in Turks and Caicos.
Bye for now,
Margo Elliot