By: Benjamin Kent
Sawubona Readers!
Wow, the end of March already! It's amazing to look back at all of the fun times I have had so far and, since my blog post about my Safari, work has been getting more hectic– but in a fun-filled way!
Preparation for the Gold Coast 2018 Commonwealth Games (GC2018) became the focus of everyone in the office, more or less. My specific duty was the assemblage of contracts for athletes and officials to sign. These contracts are between GOLDOC  and the Athletes, as well as SOCGA and the Athletes. They outline the terms and conditions of the agreement, as well as what it means to represent your country in an International Games setting. This was quite time sensitive and required a meticulous eye for detail to ensure all the information was correct so that they were all viable to compete at the games. We did, however, have to place that all on hold for a day. That day being this past Friday because…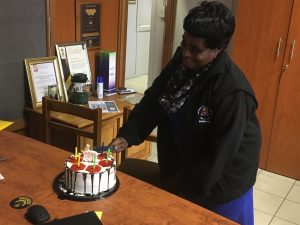 It was Beauty's 60th Birthday!!!
This was an awesome celebration for Beauty as she is such an integral part of the staff at SOCGA. Her dedication and wisdom mixed with her kindness and caring attitude make her the amazing person she is. A person worth celebrating, on a day that was worth remembering, Happy Birthday (again) Beauty!!
Another "break" from the Gold Coast preparation, also came in the form of field experience. Myself and two volunteers at Olympafrica Centre in Lobamba travelled 2 hours to a small school near Manzini. Once we arrived we began to facilitate a Zumba class with some kids of the school to show them how physical activity can come in more facets than just futbol. Here are some pictures from the event:
The facilitation of these exercises served to be a test of adaptability and flexibility (in more than one way). I wasn't entirely briefed on what we would be doing with the kids other than facilitating a class. Little did I know I would be simultaneously learning and teaching dance moves. It was filled with laughter and excitement, a fun time was had by all! This offered me some unique and exciting hands on experience where I got to spend time and talk to the teachers of children in Swaziland. It was an amazing mixture of cultural immersion, dancing, and sports.
The last of the exciting events that I will talk about actually happened this morning at the SOCGA office (Monday, March 26th). The Swaziland team is leaving for GC2018 in a scattered formation over the next week, the earliest of which being today! This was a send off and a way for the SOCGA office to say good luck to the team. Offering me some great event preparation experience setting up the each function of the event from snacks to scripts for the speakers. A great way to showcase our support of sport to the community via media outlets, and an exciting time for Swaziland sports also!
My final weeks in Swaziland are now here. It has been an amazing time so far, and we will see what the rest has in store for me. As always, thank you for reading, I hope you enjoyed!
Sala kahle Readers!