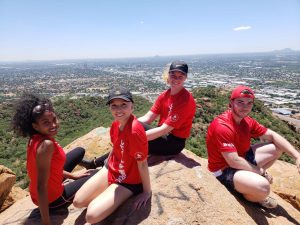 Hello Everyone, Jabu and Busi here!
Another busy and eventful couple weeks have passed for Narissa (Busi) and I (Jabu), and we have a lot of adventures to catch you all up on! In the middle of February we had the opportunity to see some familiar faces from Canada as we travelled to visit Paul and Savannah.  Paul and Savannah are two fellow SportWorks Officers who are completing their internships in Botswana.  We had an amazing time exploring and seeing Botswana with some great local tour guides.  Narissa and I are very excited to welcome these two into Eswatini very soon. Along with Eswatini, all of us are going to make our way to Mozambique for the weekend.
Since being at the Olympafrica Centre, I have taken the opportunity to play some volleyball with the volunteers and locals in the evenings after we have finished work.  From playing volleyball at the Centre, I was approached by a local team to train and play with them for the remainder of my visit here.  At the end of February, I had the opportunity to play in a pre-season tournament with my new team.  It is great getting to play volleyball again while also training and meeting new friends after work in the evenings.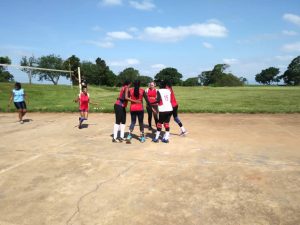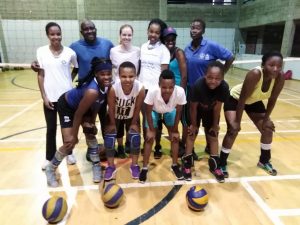 ---
Busi here!
After passing the halfway point, we've being trying to fill our weekends as best possible since we're always so busy with work during the week. One of the weekends we decided to rent a car and honestly driving on the other side of the road wasn't as bad as we thought it would've been! We went to the cultural village which was a really cool experience. At the village we got a tour and history of what traditional homes in Swaziland are like. They explained to us how families live in typical villages and the roles that each member would play. After the tour of the village, we got to see a performance on some of Swaziland's cultural songs and dances. Luckily, we also went with two Swazi's so we were even able to get translations on what the messages were behind the songs. We decided to go to Olympafrica after the cultural village to spend some time with the kids there. Later that day, one of the volunteers from Olympafrica were performing a song at The Royal Swazi (a hotel/casino) so we went to go support. We were both so shocked to see The Royal Swazi, it felt like we weren't even in Swaziland anymore with how the casino looked just like the ones in North America.
The following week, we took a couple days off work and went on a 5 day tour to Kruger National Park in South Africa. The weeks coming up to Kruger became really stressful for us as we had a lot of events to plan for including Commonwealth Day, Olympic Day and Futbol Net so it was really nice just having some time to ourselves where we didn't have to worry about work. At Kruger we booked the tour with All Out Africa (the organization we volunteer with on Wednesday's where we teach kids how to swim). While we were, it was basically like a camping trip. We stayed in tents and spent our nights around the campfire. We had unlimited game drives included in our tour so we were able to go see animals all day long. I think we can both agree that our favourite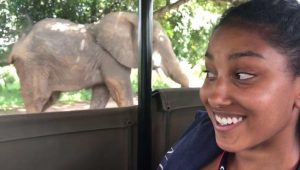 part was when we went on a sunset drive. During this drive we saw a cheetah kill an impala for her cubs to eat and also saw how vultures were trying to fight for the meat. We also got to see a lion marking his territory. At this point, our tour guide drove right into the bushes in the area of the lion and turned of all the lights. We all sat in complete darkness with nothing but the stars shining and the only noise we would hear is the lion's rawr to continue marking his territory.
That is all for now. Talk soon!
Busi and Jabu
P.S. check out the photos above to see our different reactions to the close animal encounters!