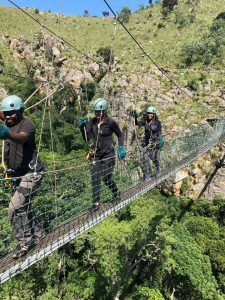 Hello everyone, our time here is quickly ending but we wanted to share with you some of our last adventures before we leave!
The following weekend after our Kruger trip, we went to the Malolotja Nature Reserve. On the way there, our guide showed us to Maguga Dam which is the only dam in Eswatini (we were really shocked to see water in this land locked country!) When we got to the reserve we walked around and watched the sunset with the wild zebras and antelopes. We ended the night with a delicious braai. The next morning was the day we were waiting for all weekend, ziplining! Since there was a small group of us, it was quick transitions between the 12 canopies. After the first few canopies of adjusting to how to zipline, we were flying by just having a lot of fun. On the way home after ziplining, we stopped by the oldest mine in the world and got to see the local glass factory which was really cool.
After the ziplining on Sunday our day was not finished, we then headed to Somhlolo Stadium for the King's Cup finals of Eswatini.   The Young Buffaloes were playing the Mbabane Highlanders for the Ingwenyama Cup, with the King of Eswatini even in the stadium for the match.  The stadium was packed with basically every seat full and the energy and atmosphere of the game was incredible to witness.Unfortunately the team I (Carly) was cheering for (along with the majority of Eswatini) the Mbabane Highlanders lost to the Young Buffaloes 3 – 1.
The next weekend we had Paul and Savannah come visit Eswatini and join us for our weekend trip to Mozambique.  We spent three days in Ponta Do Ouro which were filled with laying on the beach, eating delicious seafood and even swimming with dolphins (on 3 separate occasions!).  Below you can see a video of me (Carly) having a dolphin swim right past me in the Ocean.  Unfortunately we were all so relaxed on the beach we all forgot to grab any group pictures.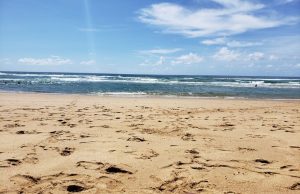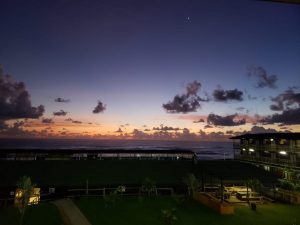 We were lucky to still have the opportunity to visit the beautiful country of Mozambique. But we are saddened by the news of those affected by Cyclone Idai and are keeping them in our thoughts.
---
I (Narissa), have one other major trip to go on before heading home. Paul, Savannah and I are heading to Cape Town during one of our last weekends in Africa. I'm super excited to spend another weekend with them before going back to my regular schedule at home. As time winds down, it's amazing to look back on how many small trips we were all able to plan during our time here. Unfortunately, it's already coming to an end, but it's been so much fun adding our adventures into the mix of our internship placement.
Well, I guess that's all. It's been real Eswatini. Thank you for such an incomparable experience,
Narissa/Busi
---
While Narissa, Paul and Savannah are in Cape Town, I (Carly) will be competing with my volleyball team the Bob Ladies in a tournament that we are hosting with teams from South Africa and Lesotho joining us.  I am very excited (and sad) to play one last tournament with my team before I leave!
Everyone warned us that time here would fly by and they were right! It has been an incredible three months in Eswatini and I will never forget the friends and memories that I made in the beautiful country!  Now onto new adventures as I head to Europe on a month long adventure.
Thank you for everything Eswatini, you will be missed!
Carly/Jabu
---