By: Matt Milligan
Hello everyone!
Another month has flown by here in Swaziland, we have been very busy working on our assignments, helping to organize Olympic Day, making friends and creating memories.
As Jon and I worked diligently on our assigned projects, we have been able to spend a few days per week at the Olympafrica Sports Development Center in Lobamba with Dalton (center manager), working with local youth in developing sport skills and learning about values. We've developed great relationships with many of the kids and volunteers at the center, not a day goes by where we don't enjoy our time with Dalton and his crew! They have helped us see the real impact that sport can have on a community and its individuals.
The past month has been dedicated to planning for our two Olympic Days. We held the first one in Lobamba at Olympafrica where well over 500 smiling kids were present and could participate in over a dozen games and sports. The sports ranged from Gymnastics and kids athletics to wheelchair basketball and boxing, there was no lack of fun! We were even able to participate in games as the day went on, I was able to learn some Boxing moves, play frontball, and even play rugby, which I haven't done in years!
The event was a resounding success thanks to the hard work and commitment of all the volunteers that helped in one way or another. They were the glue that held the event together, and the spark that lit the fire of passion and enjoyment that could be seen throughout the venue!
Outside of our work, Jon and I participated in two hikes in June, the first being Execution Rock which we completed with the Natural History Society of Swaziland early in June. Our group was very diverse with people from Canada, Ireland, Zambia, Lesotho, United States and Swaziland. The experience started by driving through the Mlilwane Wildlife Sanctuary, then our hike took us across remarkable landscapes, in a cave with primitive bushman paintings, and all the way to the storied summit.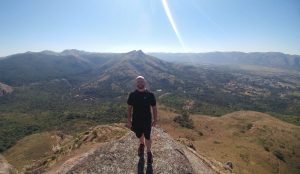 Our second hike was Mdzimba Rock which we accomplished with our friends from Olympafrica. This one was steeper and more challenging than Execution Rock, and that much more memorable. We walked and climbed through trees, rocks and slippery grass. It was all worth it to be able to see the incredible view from the top. Swaziland is a beautiful country with rolling hills that are sprinkled with boulders and trees. When we got back, we spent our evening enjoying a Braai and a few Sibebe's!
So far every moment of our experience has been memorable, whether we are climbing mountains, playing games with kids or working on our assignments. I cannot wait to see what the remaining months will bring us!
Cheers!
Matt
—–
By: Jonatan Osorio De Leon
Hello everyone Jonatan here!
If you're all wondering how I'm doing from my last blog post, I'd gladly respond to you all in Siswati with Ngiya Phila! (I'm doing great, thank you!)
It may sound a bit cliché at this point but wow time is really flying by! Come to think of it, in about another month or so, Matt and I are getting close to our departure dates and making our way back to Canada.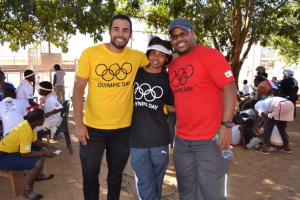 But let's not get to focused on the future, let's talk about what I've been up to here since my last update. This past month Matt and I have been lucky enough to visit the Olympafrica Sport and Development Center (OAC) in Lobamba twice a week, which has been a major highlight of mine throughout this internship thus far. We visit the OAC to help Dalton (the coordinator of the OAC), and his volunteers play sports and educate children on values. These visits have also really helped me gather data needed to finish my major assignment from SOCGA's CEO Sidney, which was the task of building a commercialization plan for the OAC.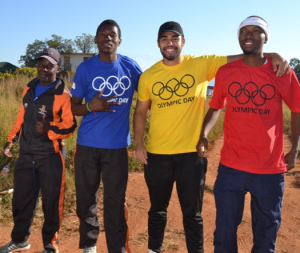 As we are approaching July, Matt and I have been keen on planning activities that we would like to experience during our last month in Swaziland. So far, we have only brainstormed ideas like white water rafting, zip lining, traveling to Mozambique, and visiting local safaris, but I'm sure we'll end writing about what we choose to do in our next blog post. In terms of office work, I've been busy planning and finishing administrative work for our Olympic Day Run events here in Swaziland and gathering data for some school work.
So far throughout my journey, I'm proud to state that I have embraced everything that has come my way. I had made it a goal of mine to have an open mind and try new and exciting things while here in Swaziland. One aspect I have no regrets on is going out with Bandile, who is an active volunteer at the OAC. During my first few weeks here in Swaziland, Dalton had explained to me that everyone in Africa knows how to dance and sing, later stating "if you can move you can dance". Music has always been a passion of mine and I can't explain how much Bandile and Dalton have influenced my new-found love of African house music. So much so that I even started to learn one of South Africa's dance moves the Gwara Gwara and created a list of music I must use for my DJ'ing gigs back home!
To finish off my part of this blog, I should highlight that one of sport's greatest tournaments, the World Cup, has been taking place while I've been here in Swaziland and I couldn't be happier! Swaziland and the people living here absolutely love soccer and everyone here has made the tournament a part of their everyday lives. It is amazing to see how this tournament unites people and how easy it allows strangers to spark up a conversation with you about last night's game. Besides how could I not enjoy talking about the World Cup since I'm cheering for Belgium, the future champions of the world! 😉 😉
That's about it from me now, thanks for reading my blog update for the month of June!
I leave this message for everyone back home! I miss you all but I am absolutely loving my time here in Swaziland I can officially say I am becoming a true Swazi!
Jon