By Alexander Longwell:
Sawubona!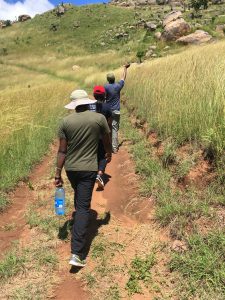 Another fantastic week in Swaziland is in the books. Last week I was kept busy finalizing the Queen's Baton Relay (QBR) Action plan, designing pamphlets and invitations and writing letters to different government officials inviting them to be honorary guests at the QBR. These tasks keep me extremely busy, but is good work and a great experience.
Further I am now working with Dalton Dlamini, OAC coordinator, to help create a program for the upcoming Taiwan Games (Sports Bonanza). In addition to this I am helping to promote the training sessions for the 2017 Sports Bonanza, which is to be held July 14th. This year the Bonanza will bring together 810 children from 9 primary schools who will learn the importance of teamwork, fair play, leadership, and coordination through lots of fun and physical activities. It's too bad that, like most of the events I am working on, I will not be around to participate on the day of the event. But like a good friend said to me, "planning is more important than the events themselves".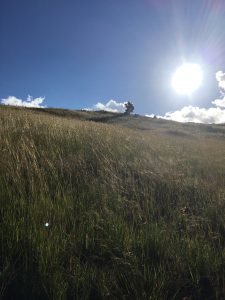 In other news we had Cyclone Dineo hit Swaziland last Thursday. The rain was constant, switching between a few hours of a heavy downpour and high winds and more of a regular rain. In the morning I was planning on walking to work however by the time I reached the first bus shelter I was drenched, even with a heavy rain jacket and water proof pants, so I opted to take the Combi (a mini bus) and dry off a little before getting to work. At the office we found we had to almost yell at each other because the rain hitting the building was so loud we had trouble hearing each other speak. But at the end of the day it wasn't much more than a heavy rainstorm and from what I see no serious damage has been done to Mbabane.
Over the weekend we were lucky enough to have a break from the rainy weather, so Jamleck, a few of his friends, and I decided to climb Mt. Sibebe. The hike took us roughly an hour and a half up and the same back down and it was quiet, calm, and peaceful. We ran into no one and the only sounds were that of the animals and the wind. They told me that in June there is an event where thousands climb the mountain and some even do it competitively. As much as it would have been cool to participate in that, I enjoyed having the mountain to ourselves. At the end of the day we went for dinner at a place called Mitchells, which is a new restaurant which replaced Bombaso's. It was good food, and a good way to end the day.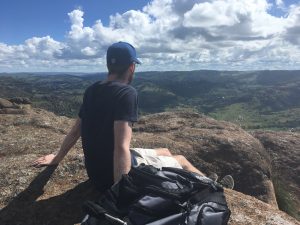 Salani Kahle,
Alexander Longwell