Hey Everyone!
I was told again and again how quickly time goes by when you're here, but I don't think I was prepared for just how fast time really does fly! I've now been in Swaziland for two months and while I've still got another month and a half, I'm already planning my next trip to Africa to share all of the great experiences I've had with my friends and family.
Although our eyes were glued to the TV during the Youth Olympics (October 6-18) watching out for and cheering on our athletes, work has been moving along in the EOCGA office. I have a couple tasks on my plate that I'll be working on for the remainder of my time here. My main assignment is the creation of an enhancement framework for the organization's anti-doping program. The goal for this framework is to provide EOCGA with some new ideas and a plan for how they can continue to develop their anti-doping policy and programming in order to create a more complete and comprehensive strategy that they and their National Sport Associations can follow. Anti-doping and clean sport are critical aspects of today's sport landscape, and on a national and international level, it is taken very seriously. I hope I can bring my perspective from Canadian sport to this assignment to provide a functional plan for EOCGA to draw from as they work to better themselves and all sport in Eswatini. The task is definitely a little daunting, but I am happy to accept the challenge!
I have also begun to work with the Swaziland Hockey Association. No, not ice hockey my Canadian friends, field hockey! The organization is only a few years old, but it's working hard to grow and develop the sport of field hockey in Eswatini, especially at a grassroots leve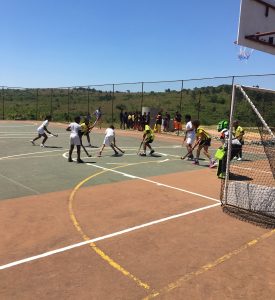 l. The Swaziland Hockey Association was actually formed in part by a former Brock Queen Elizabeth Scholar, so I am thrilled to be helping further the vision of someone just like myself. I hope to help the association develop their administrative capabilities and prepare a strong operational plan for the year to come. The organization has some strong goals for hockey in the country and so much passion driving them to keep working. I recently joined them at a small tournament they ran with about four primary schools, which took place in Manzini. It was the first time many of the students had ever participated in a tournament or game against another school, and they all had a great time developing their skills and just playing the game! We used indoor rules, but played outside on a basketball court surface. It was a beautiful day and it was great to watch the students develop their teamwork and communication skills.
Outside of the office, I have had a few opportunities to learn more about Swaziland and the incredible culture that lives within it. I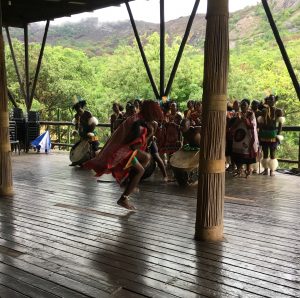 experienced traditional Swazi culture at the Mantenga Nature Preserve and Swazi Cultural Village, where we were treated to a performance of traditional Swazi song and dance. They taught us the meaning behind each dance and when they are performed. We also got to tour a traditional village that they have on site. Our guide was wonderful, teaching us about traditional ways of life in the village and many of their traditions, some that are still present in Swazi culture today. I loved the experience and was able to broaden my appreciation for the beautiful country I'm living in.
I also had my first safari experience this month! I booked myself a one-day trip to Mkhaya Game Reserve, which is about an hour and half drive from where I'm living in Mbabane. The trip was everything I hoped for and more, giving me the chance to see white rhinos, giraffe, hippos, antelope, zebras, warthogs, and so much more in their natural habitat. We toured around the reserve in an open top land-rover, soaking in the summer sun. Ou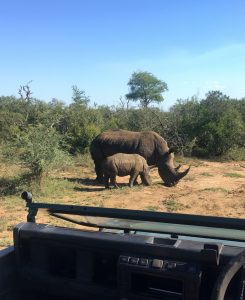 r guide was a great teacher, explaining different aspects and areas of the reserve and it's history as we drove through, as well as sharing his knowledge of the different animals that call Mkhaya home.
I'm so happy I've had the chance to see more of the country and experience true Swazi life this month, and I can't wait for another exciting trip I have lined up in the weeks to come. It's hard to believe that I am already halfway through my Swazi adventure, but I'm hoping to make the most of the rest of my time here, as well as make a difference through my work with EOCGA.
Talk again soon,
Kaitlyn