By Rachel Ivey:
The first week of my SportWORKS internship at the Swaziland Olympic and Commonwealth Games Association (SOCGA) has been very busy. I feel like I've done so much since I've been here. Here's a list of some tasks I've completed:
Created an action plan and volunteer application forms for the Sport Values 4 Life Festival that we're hosting for 3000 school children next month
Wrote a letter to the International Golf Federation to help a Swazi golfer get onto the Olympic qualification list for Rio 2016
Reviewed their Paralympic Committee's current constitution and made some suggestions for amendments
On Sunday, we have our Annual General Meeting, where our Executive Board reviews the 2015 year in sport and makes recommendations for the future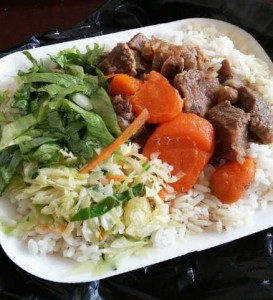 Delicious lunch from the little bar across the street from my office
On the personal front, I've settled into my new "home" at the Bombaso's Backpackers Lodge. It's kind of like a hotel, but they also have an area with space to set up tents. Most people staying here right now are only around for a couple of days to a few weeks at most. It's been a mix of vacationers and people with short-term work placements. Downstairs, there's a bar (a beer costs E15, about $1.30 CAD/$1 USD), a pool table, and a swimming pool. It has changed a little bit since Amanda was here in December; they added WiFi and a TV hooked up to DStv satellite with 100 channels or so. It's mostly young people who come stay here and it's been really nice so far.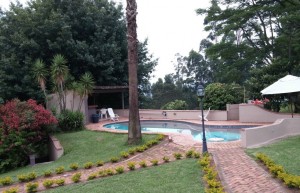 Getting settled really isn't hard when this is your yard.
I met and hung out with a family that lives in Mbabane (thank you to CouchSurfing.com). They took me around the area to show me what the city and surrounding areas have to offer. The highlight was probably seeing Sibebe Rock, the largest exposed granite pluton in the world.  Apparently hiking to the top of it is awesome.
They invited me to go with them when they hike it next. After the quick tour, they took me to their home to meet their dogs and play some ping-pong. Since I don't have a car (or a license, for that matter), they offered to stop at the grocery store so that I could pick up food for the week.
Until next time,
Rachel