By Nick Hayman:
Sawubona and hello!
After a longwinded journey from Toronto to Mbabane which included planes, trains, automobiles and a rather strange part of Frankfurt, Germany (Maybe I should have just stayed in the airport for that layover…), I've finally made it. My first 4 days in Swaziland have only involved settling in, as I will be starting work on Monday but everything is nicer than I could have imagined so far.
On my first day I was picked up at the Mbabane bus station by Nhlanhla and I made the classic mistake of trying to get into the driver's side of the car; In my own defence I was extremely tired from a 41 hour trip capped off by a 4 hour bus ride. I was taken back to the office to be introduced to the staff but it was rather late in the day and not too many of the staff were still working there. I was then taken back to my accommodation at the Red Berry Bed and Breakfast.
After some much needed rest travelling further than I ever have before (by a landslide) I was awoken to a whole staff making breakfast for me and the others staying at the time. I did not expect this kind of service from my accommodation and was happily surprised. Red Berry has a stellar view and is much more luxurious than I could have ever imagined. Then Dalton came to pick me up and we went on a tour of the town of Mbabane and bought some of the things that I forgot to pack. We also took a trip down to see Sibebe Rock (pictured below) which I will surely be climbing at some point in my stay here.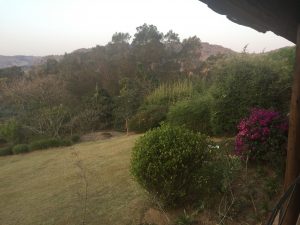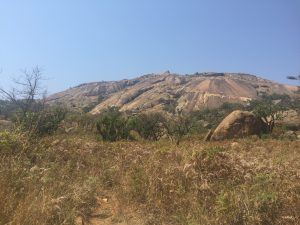 View from lodge                                                 Sibebe Rock
I've been settling into my accommodation well and getting ready to start the real job on Monday. I am quite excited to find out more details on what I'll be specifically working on as well as meeting the remainder of the office staff.
Say Sawubona (hello) to the folks back home for me,
Nick Hayman.
P.S I tried to carry my groceries back home up the mountain today … that was all the exercise I needed this whole trip.