By Matthew Hagopian:
Sawubona,
This will be my second blog post after being here for just over one month and finally settling here in Mbabane, Swaziland. I think I am officially feeling at home here. I've met tons of people by just greeting everyone I've walked by, and I'm starting to even get noticed by some locals. It's nice…I walk to work at around 7:30 every day, and there will be people already waving to me a few feet away before we meet. Swazis are incredibly nice people! I even received my Swazi name…Jabulo (English translation = Happiness)!
Work is picking up quite fast here with the Olympic Day Run right around the corner. Throughout the past few weeks, we have continued to visit each of the schools participating in the upcoming Taiwan Games; to serve as a preparation tool so that the event will go as smoothly as planned. We take the students at the schools through different activities that they will be competing in at the Taiwan Games, and ensure that the teachers are caught up to speed with what to expect on July 14, 2017. The school sessions have been going better than planned. I'll attach a few photos below to show how enthusiastic the students are during these sessions!
At some point in the day (during the session), I like to pull out my camera in order to take a few photos for our SOCGA Facebook page. Every time I do this, I always have a crowd of pre-school students huddling around me because they are so curious as to what I am doing. As a joke to them, I quickly flipped the view from a forwards to backwards shot and snapped a photo of them. Once I showed them what I've taken, they don't want to stop posing! Take a look below!
We've visited about six of the schools, and we'll be touching base with the last three very shortly. Words cannot express how much of a learning curve and enjoyment it is to spend time with the local primary schools here. Watching their determination and how grateful they are towards what we bring to offer them during each of these visits…it's the real reason as to why I got involved in sport. It took me this long to realize it, but I would never have discovered it if I didn't take part in this internship. I'm prepared for a very rewarding summer (winter).
Also, with Carmen's permission I would like to also add in that there was a recent holiday in Swaziland a few weeks back, and SOCGA had held a team building day for the "Swazi Boyz". The "Swazi Boyz" are a motorbike club in Swaziland that Carmen is a part of. The day consisted of various games ranging from: Sitting Volley to Obstacle Course Relays. All in all, it turned out to be a fantastic day, and I'm sure it will be a reoccurring event. Take a look at how much of a success it turned out to be!
The Olympic Day Run is closing in, and preparation for the Taiwan Games will continue to take place every Wednesday and Friday, so we will be visiting more schools throughout all of June!
There's been a lot going on, on the personal side of this adventure as well! A few weekends back I grabbed a last minute ticket to the Bushfire Festival, said to be one of the best music festivals in all of Africa. Because it was a last minute decision, I went by myself, and ended up running into Bandile there, and even met a few internationals. They were playing a ton of reggae and hip/hop music so I quickly fell in love with the festival. The food in there was quite expensive, so Bandile took me outside to the street where we picked up a plate of "chicken dust" (called that because it's cooked near the road where dust tends to fly up due to cars driving by —- Yum!) from the locals who were camped outside barbequing; delicious! As it got later, a guy named Tsepo from here in Africa took Bandile, Lo (a girl from Belgium), and I over to a place called the "Cuddle Puddle". It is a decent sized hot spring based just outside of Lobamba, Swaziland. We spent hours there, it was such a nice surprise given that it is much colder than I expected it to be here. While we were there we met tons of other people from all over Africa and we even ended up teaching a young boy how to swim (to do the strokes properly). His parents were more than happy to let us go ahead and teach him some new skills. He was ecstatic to have us there!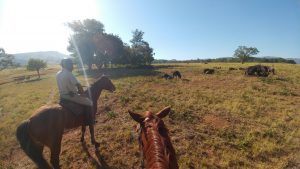 The following weekend I took a trip out to the Mlilwane Game Reserve nearby Mbabane and took part in a horse back tour. It was a once in a lifetime experience that I'll never forget. I met two girls from the States who took part in the tour with me, and if I ever get a chance to return to Swaziland later on in life, I'll be coming straight back here for another chance to take part in this! Here's a photo of what the tour looks like; you'll never want it to end!
Until next time!
Matthew Hagopian