By Rob Hinschberger:
This past weekend we had two workshops take place at the Centre. One involved Education USA through their Embassy in Swaziland that offered information of scholarship opportunities. The one that SOCGA held was a leadership forum for Women in Sport. It was impressive to see 53 ladies sign up and commit to the two day workshop. A large confidence builder for these women, it had a true feministic approach and rightfully so. For those that don't believe in equality, you're lagging behind and need to change that attitude.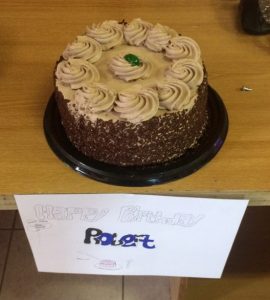 Otherwise, I celebrated my 25th birthday here in Swaziland and was treated nicely by my host Jason (and his mother, Naan) at Bombasos. I managed to get an old 1 Lilangeni coin from Nan which was sweet, keeper for sure! Monday work accompanied with lovely cake, Chinese for lunch, and a serenading of "Happy Birthday" from my co-workers at SOCGA. It put a smile on this young man's face for sure!
For this blog, I will focus more on my overall impressions of Swaziland along with recommendations for any future QE Scholar for SOCGA. This country has offered tremendous views daily, with a wonderful mix of weather. I entered when the drought continued, which offered hot, dry days – windows were frequently left open offering the opportunity to be awoken by the variety of birdlife at 4 am. However, November has given Swaziland rain and quite often! Not surprisingly, the trees, plants and grass have taken to this natural resource wonderfully. A wonderful sight! In addition, the thunderstorms have been loud and vivid, just as advertised. The internet has been knocked out a couple times for a few days and while this offers more "challenges", it is part of the experience I signed up for.
My Swazi name has been deemed Sizwe Dlamini, with Sizwe meaning Nations and Dlamini being the surname of the King's. I gathered this name because I am the last resident at Bombasos Guesthouse – this comes with the slight disappointment of little interaction with others. For the next intern, I hope you are in a residence that allows you to engage with individuals from a variety of countries. The odd time I had the opportunity was enjoyable and offered stories, perspectives, and enhanced the experience. Be open-minded and willing to engage in conversation with anyone because you never know what door it may open.
Take all opportunities to meet any professional in the industry – they were once in our shoes! I had the pleasure of meeting Ralph Mouchbahani, a German IAAF lecturer which allowed for intelligent conversation and insight into high performance sport. We had 278 children attend a session with Ralph on a hot Wednesday afternoon. Not having registration prior to the event didn't allow for enough volunteers to be recruited, so it was a hectic, but fun afternoon!
I do believe a spot in Ezulwini would offer more for the "tourist" to enjoy as Mbabane is tame in nightlife. That said, for someone who enjoys running, Mbabane offered a wide variety of hills and roads to check out the landscape (this may be true anywhere in Swaziland, though).
Next, be prepared for the lack of schedule. The combi (bus) system is a fill-it-up system and there is no telling when one will come by your area. Out of choice and necessity, I often walked into the town centre to catch a bus down to the Olympafrica Centre because you could be waiting for 5-50 minutes. I may not recommend this with everyone, but there were also multiple lifts into town from random cars – some asked for money, some just let you get in. I say this also because I have never feared for my safety in Swaziland and in general, it has been very welcoming (I did not wander at night-time). If you don't have patience, practice it – African (Swazi) time is real. A friend of mine joked that by the time I leave, I'll finally have adjusted and I'm not sure I have yet – it seems like an excuse and/or explanation to be lazy. Nonetheless, smile, enjoy the view, and remember you're lucky enough to be in the position you are!
I must say I was surprised to come to Swaziland and see the cost of goods. Food prices are on par with Canada, disregarding oranges, grapefruit, papayas, and eggs. Hopefully you are a fan of these because they may become your staple food if you are looking to save money! While I typically have budgeted throughout my university career, if you haven't, the internship offers you the chance to learn. The malls offer shops that you we have in Canada and some are costly, while others more economical. Be sure to stop by the market and experience the home-made crafts, offering Swazi creativity.
Now the important part and why you're REALLY coming to Swaziland. Work. Push yourself – ask Mrs. H to be a part of anything and everything. If you don't there's a good chance you get left on the backburner – not because it's her intention but she is the head honcho and therefore, has plenty on her plate. Looking back, I wish I would have been more a part of the duties that Carmen and Samkelo are responsible for (projects). Prepare by having your own plan of action because Mrs. H will ask what it is you have done and what you want to accomplish in Swaziland. This can be a tough question to answer entering a new country and organization. I suggest you answer honestly but that you make it clear you want to leave with hard skills developed. I strongly believe the soft skills will come with being an international intern – with the assumption that you are enthusiastic and open minded to your experience in Swaziland.
Before Mrs. H leaves for a trip, communicate and be clear on responsibilities and tasks you and her would like completed. Furthermore, the Centre is wonderful but a plan of action needs to be prepared and the workers/volunteers there need to be informed and on board. I believe in the Centre and I'm confident Bandile is the immediate future of it – how far he is willing to embrace his leadership role will determine if the Centre can continue adjusting and progressing. He is great with the children and brings terrific energy – it's the consistency that needs to be reminded and harnessed. Be aware that the school year means the Centre (which is open from 0900-1800 daily) sees limited children until 1500-1600. Hence, my reasoning to a plan of action needs to be developed.
My final words would be to embrace every day you have here. It may be cliché but it is so true because the time will come and next thing you know it is gone. The bittersweet feelings of returning to the homeland for my favourite season (snow baby snow) but leaving Swaziland and the relationships that have been built are hitting me. The workers at SOCGA are tremendous individuals – go happy, polite, and ever welcoming. Give Beauty hugs, she is as her name suggests and let them see your personality. I don't suggest holding back on anything – share your qualifications and be open and comfortable with vulnerability.
I plan to write one more blog as we finally get to have our Parent Day this Saturday (of course with a boxing course commencing at the Centre, too) and any last thoughts. Perhaps it'll be in my airport stops as I make my way back to Canada. I've enjoyed writing these blogs (along with a personal journal) and am happy to bring writing more frequently back into my life.
Until next time…
-Hinchy