By Nick Hayman:
Sawubona and hello; Nick here, or as they now call me in Swati, Sipho ("Seep-Fow", it means "Gift" in Swati). 2 weeks in and the Swaziland Olympic and Commonwealth Games Association (SOCGA) have thrown me right into the fire with events of many kinds. Let's dig right in.
One of the first tasks that I got to help out with around the office was on a day when we went to our Olympafrica Centre in Lobamba to film a hype video with some kids for the Buenos Aires 2018 Youth Olympic Games 1 year count down. I wasn't sure what I would be doing there but I was going with the team to see what the Olympafrica Centre was all about. Here is a group photo of myself and the kids.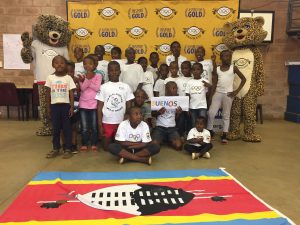 But Nick, You're not in that picture.
I'm glad you asked that question.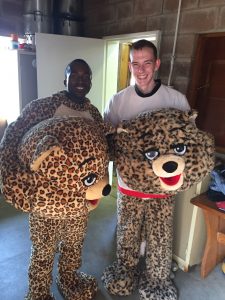 Imagine every stereotype about it being hot inside mascot costumes, then add an african heat to that equation. Unfortunately I do not have an after picture but it was maybe hotter than anything I've ever experienced in there. Also those shoes are about 5 sizes too big, but the costume is 2 sizes too small.
Very early on a Saturday morning, SOGCA and I had the chance to have a tent at the Rainbow Dash 5K and festival. We were simply giving info on the Olympic movement and sport in general. As I've learned, sport is not a big part of the education system here in Swaziland as some people came up to us and asked what the Olympics were. We walked the 5K as a team (despite my wanting to run…) along with our mascot Swazingwe (not me this time). There was colourful powder thrown around everywhere and I wound up with quite a lot on me. As I washed it off, I found it was still in my ears and my nose. It was tough to get it out of there. SOCGA won 3rd prize for most creative during the dance segment of the festival which I like to think was because of me but was probably all Swazingwe.
September 18th through 24th was disability awareness week at SOCGA which included trips to many different schools and homes to bring sport.
I had put in much research at work on disability as a social construct rather than a physical and how to properly educate disabled and non-disabled people about sport and inclusiveness. The first visit to Cheshire Homes involved tossing balls around as it was quite difficult to organize this group (many different ages, disability, many of them quite severe). It was important that we learn from this one as in hindsight we should have at least tried to organize something. Still though, we did manage to get each kid there involved.
Cheshire Homes
At the School for the Deaf (this was its official title), I was given my sign language name. Unfortunately I can't type it out here but if you really want to know what it is just directly message me I suppose. We played many games with these kids including sitting volley, jump rope, frisbee and many more. It was interesting that my colleagues and I had the same language barrier with the kids for once rather then them being able to speak Swati and me not knowing what to say (I'm working on my Swati).
School for the Deaf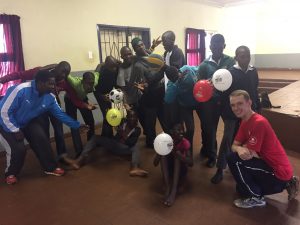 St. Joseph's was where we went to teach some children in wheelchairs the sport of sitting volley and then have them go to another school tomorrow (Monday September 25th) to teach some able bodied kids to play as well. We also played some other games with these kids that were mostly improvised with balls, bean bags, and Hoola-Hoops.
St. Joseph's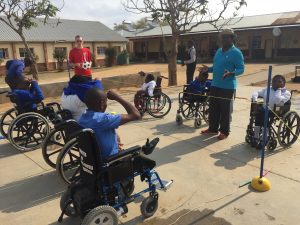 Finally there was the wheelchair basketball clinic on Saturday which was interesting because I was the only one there who had seen the sport before. As a result, I was doing a lot of the teaching and many of the athletes came to me for advice while we did workshops and I refereed the game. In a way, I became Swaziland's National Wheelchair Basketball Coach. A member of the Swazi newspaper interviewed me as if I were an expert and he asked me if there was a chance for a Swazi Paralympic Basketball team. I told him that if there were, it would be a long journey (that would perhaps be adapted into a movie one day … I'd watch that).
(pictures not available as I was running around the whole time)
Much of my work in the office has been preparations for sending athletes to the 2018 Commonwealth Games in Gold Coast Australia in this coming April. As I've learned, it is quite a complicated process to organize travel, accommodations, transportation to competition, and ensuring that the athletes have the right information they need to succeed. The athletes are still in the qualifying phase and are not even sure whether or not they are going yet. I've also been working on preparations for an anti-doping seminar for National Sporting Organizations coming up next weekend but I do not believe I will be attending.
My overall Swazi experience has been lovely so far as the weather is great, scenery is great, life is very inexpensive, and the Swazi locals have been very kind to me so far. The most major difference I've found between Canada and Swaziland though, is that cars have the right of way here and are aggressive as can be. When I've asked people about it, they say "well the road is for cars, not pedestrians, so get out of the way".
I've been very busy so far having worked each Saturday as well as Monday – Friday in the office, but I will have lots of time to go on African adventures on my own while I am here. I have met many people willing to go, I just need some more spare time.
For live updates on my adventures and misadventures in a culture where I have no idea what I'm doing, follow me on Twitter @Haymanizzer.