By Kimmy Lennon:
Hello everyone,
Wow a lot has happened since my last blog post and I can now say that I've completed the majority of the things on my bucket list. I'm leaving a week today so I guess this is as good as it's going to get!
Anyway, I was able to explore more of the island's beauty in the past month and a half when I hiked the Vermont Nature Trail and visited Darkview Falls. The Trail is located far into the rain forest and is a good two-three hour hike. It was a great way to spend the day, and I loved getting out of the city and the office and having the opportunity to explore the wilderness. Unfortunately, we didn't see any of the parrots native to the island, but I did see a red pineapple, which was new to me… so I was happy.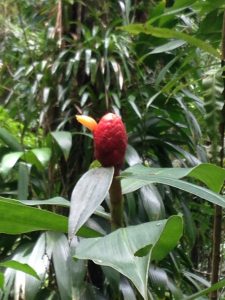 In addition to my trail adventures, I recently visited Darkview Falls with some of my co-workers. It was a long drive out there but well worth the time. In fact, I prefer the longer drives in a way because I'm able to see some different towns that I would otherwise never have been exposed to. Darkview is basically two huge waterfalls located way up in the country. We packed a picnic and spent the day, and it was the ideal trip to end my bucket list on.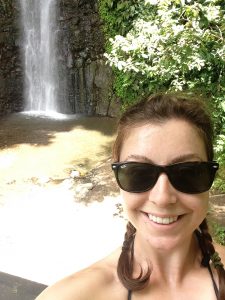 Now that I only have a week left it's time to finalize my projects and get packing! I'm more or less done my LTAD model for the Rowing Association, I just need to add some pictures that I took when I was in Layou a couple of weekends ago for practice. I'm pleased with how it turned out and I'm hopeful that it will improve recruitment strategies and enable growth for the Rowing Association. My project for the committee is finished as well, in fact I submitted my final version last week.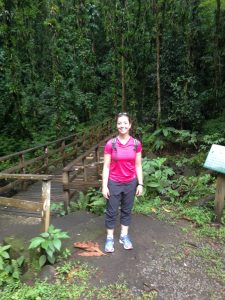 Considering the majority of my work is finished, I've been trying my best to assist other sport clubs with their projects out of the office. Last week, I volunteered at a basketball camp in Sandy Bay, which was way out in the country- this was definitely the furthest I've been on the island since arriving. The camp was a success and a lot of kids showed up. The camp is actually free and sponsored by "Adonal Foyle" who is now a retired NBA player but was born and raised in St. Vincent and the Grenadines.
My time in the Grenadines was definitely a humbling and memorable experience. I met some wonderful people, all of whom I will miss very much and hope to see again someday.
Cheers,
Kimmy Lennon