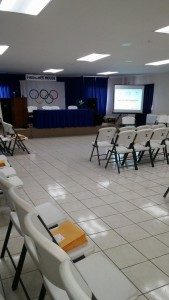 By Jamie Worboys:
Interning for SVGOC has provided me with many opportunities along with challenges. Being a young undergraduate student I have begun to apply the knowledge I have attained from Sport Management at Brock University to help the sport system of SVG. I have spent my days in the office assisting various community based multisport clubs while volunteering at and attending other sport events. Throughout the month I have communicated with clubs around the island including Friends of Georgetown Sport and Cultural Organization (Georgetown), High Performance Sports Club (Layou), North Leewards Sport Association, Bequia United Athletics Club, and more.
I have received surveys back to get more information on these clubs. The personalized surveys for each club asked questions like: What sports do you wish to include in your club? Are you satisfied with your administration? Do you have a constitution? What areas of improvement can I help assist you? This data has helped to frame a database to analysis each club's situation in order for me to help assist them where needed.
For example, FOGSCO seeks sponsorship and assistance in writing a proposal. Thanks to my course on Sport Sponsorship back at Brock I have adequate knowledge of this topic. I am in the finalizing stage of preparing a sponsorship proposal from FOGSCO to Massy Superstores, a large super market franchise that has reached many Caribbean islands including SVG. If this sponsorship proposal is approved FOGSCO will benefit from the much needed funding for their multisport club.
In High Performance Sport Club's survey, they reveal they are looking for government approval for access to specific parks and courts in Layou, SVG for their sporting activities. I have been communicating with the National Sport Council to get access approved on specific weekdays and times for High Performance to enhance their services to the children of the club.
Along with assisting in the development and establishment of community based multisport clubs at the office, I have been volunteering out in the field. Mr. Keith Joseph occasionally takes me out of the office to help out at Track and Field events seeing as he is the President of the Track Association of SVG. In parallel with my main project of SPMA 4P02, I spend my Saturday mornings at the Junior Olympians Program teaching children the educational values of Olympism and enhancing their physical literacy. Lastly, I volunteer my time Wednesday nights helping Mr. Ian Sardine at his SVG Youth Football Academy where I am an Assistant Coach to SVG boys aged 7-9.
My internship and volunteer experiences have been very beneficial and influential. However on February 22nd and 23rd Richard Way, the CEO of Canadian Sport for Life Society, hosted a two day workshop based on Long Term Athlete Development (LTAD). Over 50 SVG sport affiliates attended this intensive workshop and I got the honor to attend as well. Areas and topics discussed included: background and introduction to LTAD, identification of challenge and opportunities, LTAD pathways, Physical Literacy, ten key factors of Excellence and Active for Life, advancing health and education based on Physical Literacy, advancing national sport systems based on LTAD, and the next steps. This workshop was remarkably presented and offered advanced knowledge that will help me in both SPMA 4P01 and 4P02. It was definitely the most impactful experience I have had this month in regards to SVG and sport.