Exciting things are happening in Edmonton! It's been 3 weeks since I've started working as a SportWORKS officer and time is moving by so quickly! It's been a great learning experience so far as I've been working with the staff at Action for Healthy Communities, researching, and meeting with many different sport organizations. As an introduction, the project that I am working on here in Edmonton is the Sport for Newcomers Initiative. The goal of this project is to increase newcomer youth participation in sport by reducing/eliminating the unique barriers that they face. Commonwealth Games Canada has partnered with a newcomer service organization in Edmonton called Action for Healthy Communities. The staff here at A4HC have been so welcoming and so enjoyable to work with! We're excited to work together to help these youth get involved in sport!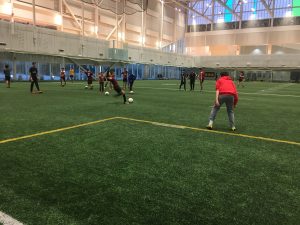 It's been so fulfilling to be able to meet with some of the youth and speak with them about their desire to participate in sport, and also to learn about the challenges that they face. These newcomer youth are passionate competitors, they are excited at the opportunity to play and they have some serious skills when they hit the field/hardwood.
I've been encouraged as I've seen all of the different ways that sport can serve a group of people. When I first visited the after school program at one of the schools that A4HC is partnered with, I didn't really know what to expect. The junior high school youth had just had their one hour of homework/studying, and now was there time to go to the gym and participate in soccer, basketball and badminton.
The kids that attend this program are all students in the English Language Learning program at the school. I wasn't sure how well we would be able to communicate. One of my goals in attending the after school session was to be able to talk to the youth about their past sport experiences and to learn about what sports they want to play and what opportunities they are looking for. At first it was a little challenging because some of the youth are quite new to Canada and do not speak very much English. It was amazing to see that through playing sport together, the answers to my questions became very clear. Their faces lit up and they worked together to tell me what sports they were excited about and the current barriers that held them back. We were able to play together and I was able to see first-hand, the fun that they had and some of the challenges they face.
By participating with them, we were able to build a friendship in which they trusted me to openly share their thoughts and ideas with me. Being around these youth has motivated me to want to work harder to ensure that there are programs that fit their needs, desires and goals.
Another opportunity I recently had, was to attend a couple of workshops with the staff at Sport for Life. It was exciting to meet with them and with many different local and provincial sport leaders to discuss what we can do to create more quality sport opportunities in Alberta. One of the primary focuses in these meetings was that we need to do a better job of making sport accessible and inclusive of all, especially disadvantaged groups such as newcomers. It was nice to bring attention to this need while so many sport organizations were listening. I look forward to the coming weeks and months where we can work together to make quality sport for newcomers a reality! One of the programs that A4HC has been running is a soccer team for newcomer youth. I was able to attend one of the soccer training sessions and meet with some of the players on the team. The youth are so grateful for the opportunity to play soccer on this team and also shared that it has been a place for them to come and make new friends. This is one of our first successes and we hope that through this project, sport will be able to do this and much more for many newcomer youth in Edmonton!