A major highlight for some of our newcomers is seeing a team like the Oilers play in Edmonton, but where can they go and play? The barriers to sport make hockey a sport that they see but can't or rarely play.
This past weekend, most newcomers in the neighborhood came to experience a cultural event with music, food and even more – play a game of hockey. This initiative is being introduced for the first time by Commonwealth Games Canada's SportWORKS program as a grassroots project for newcomers. This pilot project aims to highlight sport programs for newcomer youth and specifically girls as a way to reduce barriers and create a safe and inclusive space to youth who may not have an opportunity to participate.
Many Canadians know how cold it can be here in the North and this summer it has been cold and raining and takes some getting used to. I thought, well they asked about hockey so how do we start this?

Two young players at a street hockey game.
I would also like to meet other youth in this neighborhood and maybe help to give the kids here an opportunity.
 Today it was raining and it seemed like we may have had to postpone the event for the weekend, but so many of our newcomers came together to make this happen and were committed to it. So the tents went up on the block with arts and crafts already arriving from a local group. The organizing committee and volunteers at Action For Healthy Communities decided to give the community an opportunity to play the game of hockey. I thought it looked like the skies would open up and rain but we decided to go ahead and get the game started. It was a walk down the street from the main office which most of the newcomers know as a hub for ESL courses and for all the youth programs which are provided for free. My first friend from the youth club who I met last week was a part of their Youth Zone program. She and four other newcomers created a map on a big poster for the organizing committee to show exactly where all the activities would take place on the block. She also gave me a wonderful smile when we finally found the best place to put the map so all of the staff and youth could see what she and her friends had made.
There was another helper I met when we returned to the office a few blocks away to get the block party organized.  I came across him and he was looking very lonely and had come out solely to be a part of the party. I brought him with us and he let me know this was going to be a lot fun. He was all by himself and later I found out that he intended to meet up with a friend at the party who knew we planned to play hockey.
I had a chance to meet many new faces and also eat some excellent Ethiopian food at the Ethiopian Community Association. After our hockey game, the players had been offered  water provided Healing Connections, a business right next to the street hockey game. Myself and my colleagues had fun getting to know the community at large and this was a way to bring some new and exciting sports for free. This was a welcoming place to bring together the youth and families in the community.
Sport for Newcomers (S4N) is an inclusive community pilot project to support Edmontonians from all backgrounds who are new to Canada. It was my first community event to organize and all the equipment was sponsored and provided by a local second hand sporting equipment non profit organization called Sport Central. We were able to bring donated equipment from teams and other individuals who knew this would have an impact to those who are disadvantaged.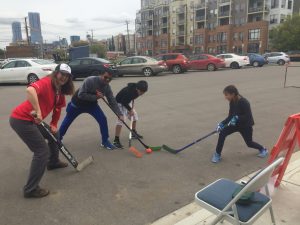 It proved a great opportunity to learn the game and it was a great day for Hockey fans! For my new friends who came to play I was profoundly impressed that most of them had seen the game before! I am hoping to meet more adventurous youth in the next chapter of the SportWORKS – Sport for Newcomers pilot initiative in Edmonton.
Photos were taken at Queen Mary Park Block Party
By: Sherry Heschuk