Written by: Kalena Soehn, SportWORKS Officer, S4N Calgary
Last week wrapped up the Girls Only All Sports Week at the Genesis Centre in Northeast Calgary. This event was an opportunity for Newcomer girls to connect and play with others girls in a similar situation as them. All the girls who participated were very thoughtful of one another and went out of their way to include everyone and make sure everyone was having fun.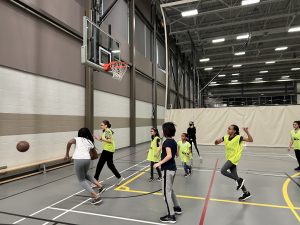 I had multiple parents come up to me throughout the different events each day and thank me for creating a space where their daughters had the chance to create new friendships. Seeing the girls have a good time and feel comfortable participating in physical activity was so wonderful to witness. I am very glad that I can see first-hand how the work I am doing is positively effecting the communities it is for.
Today is the International Day of Sport for Development and Peace. The Sport for Newcomers Initiative is a way in which we are using sports to create and help to integrate Newcomers to Canada within their new communities. Sport is a powerful tool when used to bring people together, and that is exactly what we are doing by hosting events like the All Sports Week I mentioned above.
Sport is a fundamental human right, which sadly not everyone has equal access to. This is true for Newcomers, women and girls. When moving to Canada the first thing on a family's mind is not sport activities for their children. After getting to speak with parents at the All Sports Week events, I have learned that the want and support for their children to be in a physical activity program is abundant but the time and money required for such programs does not fit in with their lives. Through the Sport for Newcomers Initiative we are using sport to strengthen social ties and create access to physical activity play in positive environments that are built upon respect and solidarity.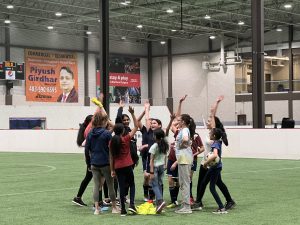 "Girl Power!" is what the girls in this photo are cheering after one of the sessions of All Sports Week. Thanks to coach Kyla from Eastside Memorial Football Club for helping out throughout the week and helping to inspire the girls into a life filled with sport and physical activity here in Canada. Moments like this are great little reminders and in a way rewards for the work I have been doing behind the scenes. I hope to continue to see moments like this and feel good about the work I put in.