Written by: Kalena Soehn, SportWORKS Officer, S4N Calgary
Our first in-person event was just completed on January 29th 2022! This event is a key marker to show that this project is indeed charging forward toward change once again. I organized a Try Badminton Day at Calgary's Sunridge Badminton Centre, which is located east of central Calgary and only a 12-minute walk from the future site of Centre for Newcomers!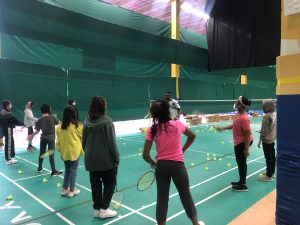 The majority of newcomer youth who participated in the event had a fun time doing so, parents and kids alike were happy to be introduced to the Sunridge Badminton Centre. Like any event or planning it came with its hiccups here and there, especially with the unknown nature of how Covid will effect different aspects pertaining to facility policies and the comfort level of attendees. But in the end we were able to have a fun and welcoming event for newcomer youth, with expert level coaching from the facilities head coach and owner who were able to make sure the skills being taught pertained to the level of each individual participant. The first sessions pictured to the right, was our Girls Only session which allowed girls who may feel uncomfortable playing alongside boys the chance to get involved in sport in an environment that let them shine. Although, the majority of girls who did show up to the Girls Only event let me know that they just wanted the opportunity to participate in sport, whether or not that was with other genders was not a problem to them.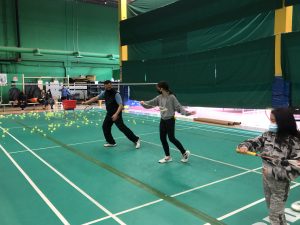 Plans for the next few months will hopefully go smoother as I continue to learn and go through situations that everyone has experienced when first trying to plan and partner with other people. A little peak to what we are hoping to plan in the upcoming months here at Centre for Newcomers is a full week of programs where newcomer youth can try a new sport or physical activity every week day.
We must all try and remain positive as programs and restrictions begin to change and give room for more activities to take place. Creating these spaces where newcomer youth can be active alongside their peers is important and I hope to see more newcomer girls and boys experience the joy of movement outside of school.