By Dante Losardo:
Dumela!
Time has really been flying by quickly down here lately and there is still so much to do. I have just under a month left here in Botswana but it feels like I had just started yesterday. These last few weeks have been very busy between work and some vacation time and I have a lot of new experiences to share with everyone.
As promised in my last post I will provide an update on the learn-to-swim project, which is now three weeks in (fourth lesson is Friday), as well as some of my experiences from my trip down to Cape Town a few weeks ago.
Starting off with work, the learn-to-swim program has been going really well. As I mentioned earlier we are in our fourth week and we are really starting to see some progress with the kids. These children (between the ages of 3-6) had little to no experience in water before the start of sessions last term. At first this term the kids were still hesitant around the pool (some still are), but some of the children have made some great strides and seem more confident in and around the water. They all seem to be enjoying themselves at the sessions and with a little more practice, I see no reason why these kids couldn't be fully competent swimmers down the road. Before my time here is over, we plan to try and integrate the top swimmers that are identified into local clubs if they are interested to continue learning and growing in the sport. Below I will attach some pictures from the sessions to provide a glimpse into the program.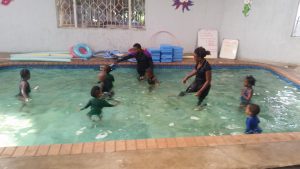 Continuing on with work, a few weekends ago I was invited to attend a swimming gala (what we would call a swim meet/competition). At this gala I was able to see some of the best young swimmers from clubs around Gaborone compete against each other. From what I saw there are some real good young swimmers around here that can help raise the profile of the sport in Botswana down the road. While I was there I was able to set up a quick meeting with the clubs and some of the coaches in order to discuss the major project that I am to complete. I set out to recruit their help in developing an Action Plan for the sport that would build upon the BLTAD plan (Botswana Long Term Athlete Development) that was completed last semester. The goal of this action plan is to identify challenges that currently exist in the sport and come up with a plan and a timeline in which to work. While many of those in attendance seemed interested in helping, I have struggled to set anything up with them to get working on the project. In the meantime however, I have started to come up with ideas and put together an action plan document with the help of Modise at the office, and Thobo from DMSS.
Moving away from work now, a few weeks ago I went down to Cape Town in South Africa with a couple of friends that I've met here in my time in Botswana. Getting there was an all day affair that included a 6 am bus ride to Johannesburg in order to catch a flight. I ended up getting to Cape Town around 7:30 at night and headed over to the hostel that we were staying at. This hostel was really cool and had a great location right on Long Street (a very popular area for young adults).We stayed down on Long Street for a couple of days before moving out to the beach for the last few days of our stay.  In terms of sightseeing and attractions, we checked out the waterfront, Robben Island (where Nelson Mandela was held during Apartheid) and Table Mountain.
I really enjoyed everything about this trip but the most interesting thing that happened was definitely my trip up Table Mountain. What happened was I had spent the morning hiking around the top of the mountain and decided to head back to grab the lift down around 1 pm. However, as I was getting back to the lift area we were all grouped together for the announcement that there had been a bomb threat called in and that the lifts had been shut down while a police investigation took place. After waiting around for about an hour, myself and a new friend from Sweden that I had met that morning decided to hike down the mountain instead of waiting for the lifts to eventually reopen. It took about 2 and a half hours to reach the bottom and it truly was a unique experience that I am glad I did. However, given the chance to do it a second time I think that I would opt for the lift down as it took a few days for my legs to recover afterwards.
After my short stay in Cape Town I can honestly say that it is one of my favourite cities that I have ever been to, and would go again in the future if the opportunity came up. The trip overall was a great experience and I had a great time with some real good friends. Below here are some pictures that I took during the trip showcasing the different sights in this amazing city.
I hope you all enjoyed reading this update on my experiences on the other side of the world, and will continue to read what I write in my next blog update(s).
Till next time,
Dante
P.S. I will be doing a takeover of the Brock SnapChat account this week on Friday (the 24th). If you are interested in seeing a day in my life here, add brockuni on SnapChat.